With the rise of cybercrime in the recent years, more and more Internet users are turning to VPN services to protect themselves online. In 2018, we can only expect to lose more control over our online safety and privacy, with resourceful hackers and new cyberthreats lurking from every corner of the world wide web.
If you're one of the wise users who's already shielded their data with a trustworthy VPN service, you're aware that a powerful router is the next step. A suitable router is absolutely necessary when regularly using a VPN so you can explore everything that the Internet has to give without losing speed.
One of the main factors when looking for a router is speed. Even though a VPN service has countless benefits, re-routing your online data to a different server also means your speed might suffer. A carefully picked router will prevent this from happening and keep your connection smooth at all times.
You should also take general features into consideration when choosing the best VPN router, as well as the design, the price and, of course, the ease of enabling a VPN.
Let's take a look at the 5 best VPN routers that the market has to offer right now.
1. Linksys WRT32X Gaming Router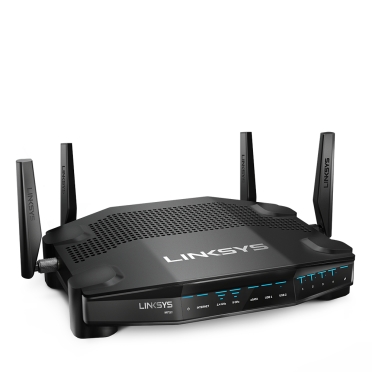 Image from Linksys.com
If you're mainly using a VPN to improve your gaming experience, the Linksys WRT32X is built to help you take your game to the next level.
At Linksys, the manufacturers know that just one millisecond could decide between a victory and a defeat in a game, which is why it's crucial that your Internet speed stays high at all times. Partnered with Killer Networking, this router employs the Killer Prioritization Engine to enhance your gaming traffic, which reduces peak ping times by up to 77% and delivers smooth gaming no matter what apps are running in the background.
This router also has customized gaming firmware and user interface, making it one of the best VPN routers for hardcore gamers.
When it comes to the price, this Linksys model will cost you $299.99 at their official store, but you can find it at a discount or browse through other online marketplaces to find more affordable options for this model.
2. Linksys WRT 3200 ACM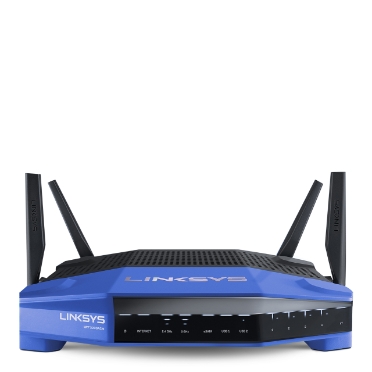 Image from Linksys.com
According to Gadget Review, Linksys WRT 3200 ACM is the best router in 2018 and we completely agree. Even without a VPN, this router is an excellent choice for any office or home.
This router's Tri-Stream 160 and MU-MIMO technologies allow for incredible Wi-Fi speeds even for multiple devices connected at the same time, no matter how data-heavy your online activities are. Furthermore, this model has customized open-source firmware which means you can install established open-source software such as DD-WRT and then set up a VPN to protect your traffic in multiple ways.
Old-school tech enthusiasts will also love its unique, retro design and its prominent colors.
At Linksys' official store, you can find this model for as low as $119.99, which is quite a deal considering the power of this router.
3. Netgear Nighthawk AC1900 (R7000)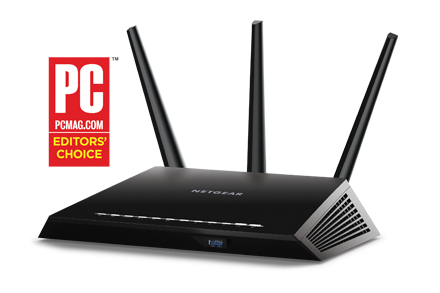 Image from Netgear.com
This beautifully-designed router has got you covered no matter what you and your family use the Internet for. Whether your home devices are used for gaming, streaming, file sharing or work, the Netgear Nighthawk AC1900 will provide you with extreme speeds and utmost safety.
Using a strong 1GHz dual-core processor, this model is built to give you maximum speed when you need it the most, but not only that. What makes this model one of the best VPN routers on the market right now is its dedication to ensuring your safety even when you're not at home. With features like Open VPN and ReadyCLOUD, you can access your network safely wherever you are.
The downside of Netgear Nighthawk AC1900 is that it doesn't use MU-MIMO technology so it can't support many devices at once, which makes it a household router.
Depending on where you're planning to buy this model, you will need to invest around $150.
4. Netgear Nighthawk X10 AD7200 (R9000)

Image from Netgear.com
This Netgear Nighthawk model is, without a doubt, one of the most powerful routers on the market right now. When it comes to the best VPN routers, it makes the cut easily but its rich features put it right on top no matter what you're looking for in a router.
This model is one of the rare routers in the industry with a quad-core processor, which automatically makes it the world's fastest router. It also uses the MU-MIMO technology, allowing simultaneous use for multiple devices. Another useful feature is the popular Quality of Service (QoS) software that prioritizes online activities with higher bandwidth so you can enjoy uninterrupted streaming and gaming.
This gorgeous Nighthawk model wouldn't be on our list if it didn't provide maximum security with VPN support, enhanced parental control, personal FTP server and much more.
However, this amount of power doesn't come cheap. Its usual price is $449.99 but you can sometimes catch a discount and find it at a slightly more affordable price ($390 on Amazon at the time of writing).
5. Asus RT-AC5300
Image from Amazon.com
If you're a hardcore gamer, you already know that you can rely on Asus devices to give you the ultimate gaming experience. And, if you want to add a VPN to the equation and don't mind splurging a little, Asus RT-AC5300 is just the router you need.
Even to the untrained eye, just a look at this impressive router will be enough to guess how powerful it is. Its eight antennae are capable of covering a range of 5,000 square feet and the MU-MIMO technology makes sure you can connect multiple devices at once. The Tri-Band Smart Connect chooses the fastest of the three available frequency bands and reaches the speed up to 5334Mbps, thus enabling the smoothest gaming, streaming and file sharing.
This fantastic model uses DD-WRT firmware which means you will be able to connect to a VPN service easily to protect your data and eliminate lags and buffering.
With everything it provides, this Asus router comes at a price that won't agree with everyone's pocket. But, although in some stores its price goes up to $500, you can easily find it much cheaper on Amazon where its current price is $297.49.
There you have it – the best VPN routers for the ultimate online experience regardless of what your favorite online activities are.
Choose the router that best suits your needs so you can use the Internet freely and always stay protected while enjoying the maximum power of your connection.