How To Recognize And Avoid A Bad VPN Service

By now, you must have heard a hundred times that you absolutely need a VPN if you're planning to stay safe online and keep your data private. But, chances are that even if you understand what a VPN is and how it works, you don't really know how to differentiate among countless VPN services out there.
They may all look the same to you, but the truth is that there are some great VPNs on the market, some pretty solid ones and others downright bad.
Instead of picking a VPN service at random or just by comparing the prices, we're going to show you how to recognize a bad VPN service so you can steer clear of these low-quality providers, save your time and money and avoid any risk.
Here's what you should watch out for.
Suspicious Company Details
The best way to determine if you're dealing with a bad VPN provider is to check out their website thoroughly. There, you will find all the information necessary to decide if you want to trust this service or get away as fast as possible.
So, when you start digging, make sure to check out the company details – who they are, where they are located and how you can contact them. You can find this information on their website as well as their app page if you're downloading the service to your smartphone or some other device.
If you notice this company is being suspiciously secretive about their whereabouts, it may be a reason for concern. Especially if they also have a generic email and no customer support on the website.
A good VPN service will have a clear way to contact them, usually in the form of live chat, giving you the fastest way to get the answers to all your questions before you decide to sign up.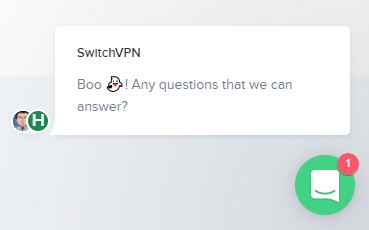 Generic Features List
To the inexperienced Internet users, all VPN services provide the same or similar set of features. But, this is far from the truth. Although all VPNs should protect your online privacy and allow you to use the Internet freely, different providers use different technologies and provide various sets of benefits.
A bad VPN will stick to the most generic features and basically explain what any VPN is supposed to do for you. They will not go into much depth about anything technical, e.g. the encryption protocols they use.
A better quality VPN provider will make sure you know exactly what they offer, along with all the features and everything that makes them unique and worth using. How many servers do they have? Which countries do they cover? What technology do they use to keep you safe? Does this VPN have a kill switch?
A good VPN provider will cover all these questions on their website and provide you with the most important VPN features.
Overpromising And Exaggerating
Does this VPN service claim they will make your Internet connection way faster? Or that they will protect you from all online threats you can imagine? Or maybe they are using certain famous logos (for example Netflix) to imply their VPN unblocks these websites, but they never verbally indicate that's a fact.
If you see any of these or similar exaggerations, huge promises or ambiguous claims, take them as red flags and move on to the next service.

Outdated Website
When you enter a website of any service you're considering paying for, first you need to take a hard look at everything that indicates this company is actively working on their product, staying up to date and continuously trying to help their customers.
So, if you see a website that is practically a ghost town, with an outdated design, no customer support and no fresh content, it's definitely not a good sign.
A VPN service that cares about their customers constantly works on improving their service and not only that. They want to engage with their audience and provide value to their potential customers by keeping a blog with relevant topics that answer the readers' burning questions and keep them in the loop.
Aside from the blog, VPN services usually have a Help Center page with useful advice from their professional team regarding the setup, troubleshooting, privacy matters and other frequently asked questions. If you don't see this page, you are dealing with a lazy VPN provider that doesn't really care about the customers.
Alarming Privacy Policy
Every trustworthy VPN provider makes sure to include their Privacy Policy on the website so that you can find out how they operate legally and how they protect their users' data.
Read the Privacy Policy thoroughly before signing up for any VPN service and make sure that your provider of choice has the "no logs policy." This means that they don't monitor or record their users' online activity, thus they cannot show or sell any data to the third parties.
No Free Trial Or Money-Back Guarantee
A VPN service that believes in their product will have no problem offering a free trial or a money-back guarantee. After all, they want to give you a chance to see how great their product is so you happily invest in it knowing exactly what you're getting.
Well, don't expect anything similar from a shady VPN. A service that knows full well that their product is faulty or simply doesn't live up to the users' expectations won't have the confidence to offer trials or guarantees.
Choose A Reliable VPN
You don't need to be a tech pro to recognize a bad VPN service. You just need to do your homework, research their website and use your common sense to catch the red flags.
Once you check off all the things we have listed, you will know you are dealing with a trustworthy VPN service that is worth investing in.
---