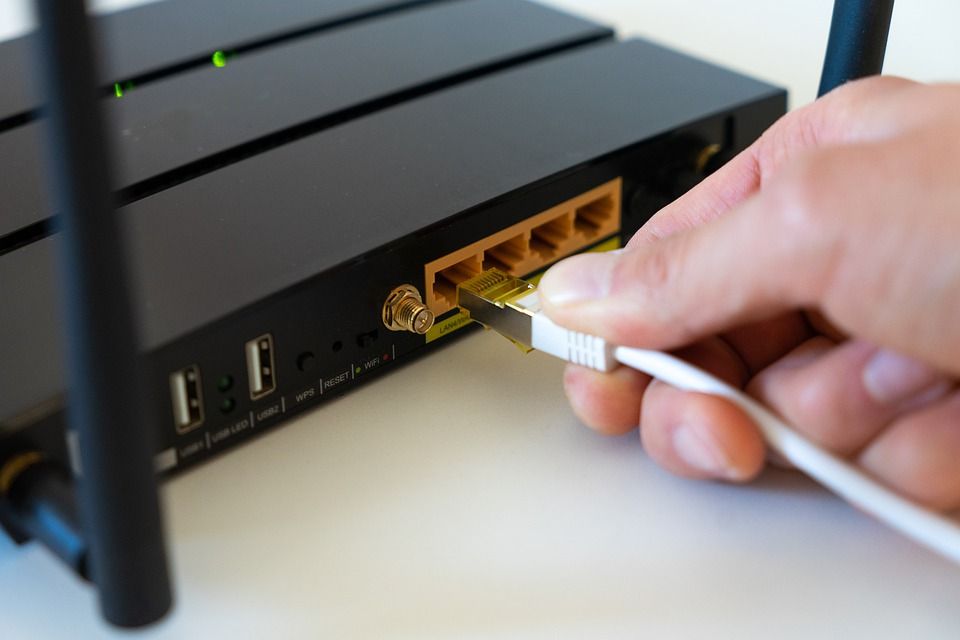 If you're on the lookout for a good virtual private network or simply want to learn more about the technology, you've probably wondered, "What is a VPN passthrough, and how does it work?"
To answer your question real quick — a VPN passthrough is a feature built into a router that allows for certain VPN traffic to pass through that router.
But, is it necessary to have it on your router to be able to use a VPN?  
Do you need to have some special router?
And finally, is a VPN passthrough somehow different from a VPN router, or maybe they are two similar things?
In this article, we are going to elaborate on all of these questions, so let's dive deeper into details!
What Is A VPN Passthrough
As we've already mentioned, a VPN passthrough is a feature that allows VPN traffic to go through your router.
While you don't need to enable a VPN passthrough if your VPN service relies on an advanced VPN protocol such as OpenVPN, with outdated protocols like PPTP and L2TP, you'll definitely have to turn this feature on for your router to establish an outbound VPN connection.
Otherwise, your router won't be able to recognize old protocols sending your VPN traffic, and you won't be able to connect to a VPN.
How Does A VPN Passthrough Work
To understand how a VPN passthrough works, first of all, you need to familiarize yourself with a thing called NAT.  
NAT or Network Address Translation is a feature that each router has by default, and it's the very thing that can block your router from establishing a PPTP/L2TP VPN connection.
But NAT isn't something bad — in fact, it's quite the reverse.
What a NAT does is it sits between your network and the Internet, filtering all transmitted traffic to protect you from malware and hackers.
What is more, it also allows devices connected to a specific network to have the same Internet connection and share the same IP address.
However, when it comes to the old VPN protocols, NAT can't do its job as intended, as those protocols don't supply the NAT with necessary information about the connections coming from and to your router.
As a result, your router is forced to block any VPN connection you try to establish with the help of the old protocols.
What about the rest of the protocols
If you use protocols other than PPTP, L2TP, you don't have to worry about turning passthrough on.
Those protocols are, for example, OpenVPN and SoftEther, and even SSTP should work fine without a VPN passthrough feature.
However, in some instances, you might need to a enable passthrough feature for your router to pass IKEV2 traffic.
Do You Need A VPN Passthrough  
Now it's time for good news.
In the majority of cases, you don't need to worry about this feature.
Here is why:
1. Modern routers come with it by default
As a rule of thumb, all modern routers have a VPN passthrough already pre-installed.
So, unless you're using some really old operating system, everything should be fine.
2. Good VPN providers offer access to advanced protocols
Good VPN providers always offer their customers access to the newest network protocols, which means your router doesn't need a passthrough feature at all.
However, if you're using a free VPN provider, your traffic may go through outdated protocols that, by the way, also won't give you privacy or proper encryption.
3. Only old protocols require VPN Passthrough
Only old protocols require VPN passthrough to work without issues.
Though, here at SwitchVPN, we still provide access to outdated protocols, we now rely on the OpenVPN protocol before everything else to provide our customers with the highest level of privacy, security, and speed.
4. You may need them only if you use an old OS
If you use OSes not older than Windows XP, you still should be able to utilize modern VPN protocols.
It's only if you have a really old operating system installed that you need to use outdated protocols requiring a VPN passthrough.
How Does A VPN Passthrough Differ From A VPN Router
Due to their name, a VPN passthrough and a VPN router are often perceived as one unifying concept.
But in reality, both of these things are pretty much different.
So, let's make it clear.
VPN passthrough: It's a software capability of your router to support the traffic originating from old virtual private network protocols like PPTP or L2TP.
VPN router: It's a router that already has a VPN client (software) installed on it.
The traffic of any device that accesses the Internet through that particular router will be redirected through a VPN server.
Wrapping Things Up
A VPN passthrough is a feature that allows your router to support the VPN protocols of the past.
In the early days of the web, it was necessary to use this feature since old protocols didn't work with NAT.
Now, such protocols as PP2P and L2TP are no longer an industry standard, and therefore there is almost no need to use a VPN passthrough.
Also, reliable VPN providers like SwitchVPN offer advanced protocols that seamlessly work with NAT and also give you better protection and speed.