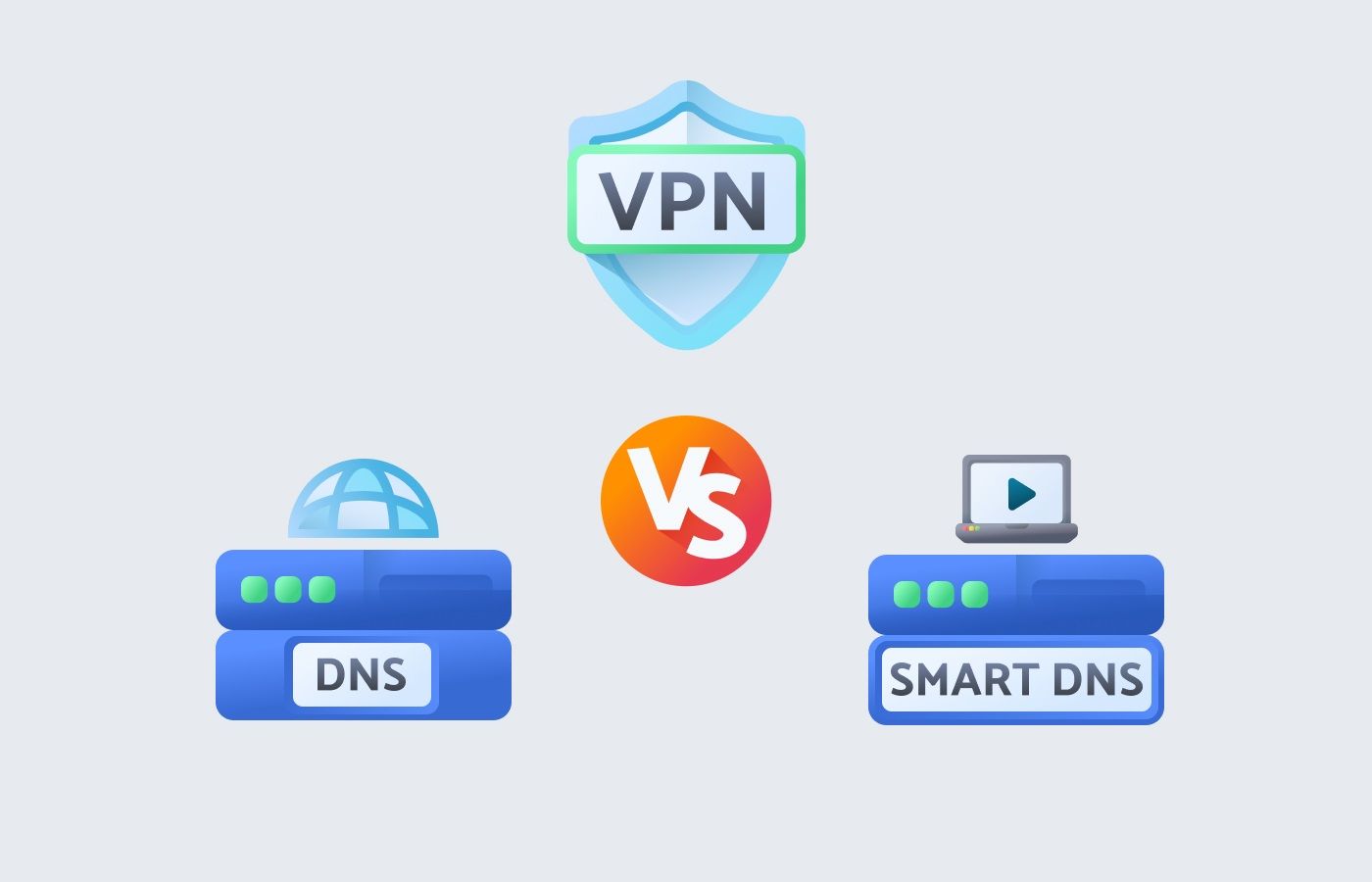 DNS vs. VPN vs. Smart DNS.
While you can use all of these tools to access geo-blocked content, each of them is pretty much different in its functionality.
This, of course, adds a lot of confusion as to which tool you should choose to meet your particular needs.
So, in this article, we want to dispel a common misconception about DNS, VPN, and Smart DNS and tell you exactly how they are different.
We will also discuss when each of the technologies will fit your needs best.
Now, let's dive deep into details!
What Is DNS
Domain Name System or DNS is a hierarchical naming system that acts like a phonebook of the Internet.
It translates domain names (like https://switchvpn.net) into IP addresses, allowing your browser to use these IPs as though they were phone numbers — to connect you to (call) a specific website.
In most cases, people use a default DNS given to them by their Internet Service Provider, which means ISPs can track some of your online activities through DNS queries.
What Is Smart DNS
Smart DNS is an online service that combines DNS and a proxy server.
It substitutes your original DNS address (that of your ISP) with the one provided to you by a proxy server.
The location of that proxy server may vary depending on your DNS provider's infrastructure, but usually, this doesn't limit your ability to access blocked websites.
However, that's only true if those websites were blocked at a DNS and not IP level.
In other cases, you will have to use a VPN.
Is Changing DNS Legal
Yes, changing your default DNS is absolutely legal.
That's because there are no laws that could force you to use your ISP's DNS.
More than that, there exist such prominent DNS services as Public DNS by Google and OpenDNS.  
Thus, you shouldn't worry about changing your DNS if you want to.
Is It Safe To Change A DNS
As long as you stick with a well-known DNS service like Google's Public DNS, changing your DNS doesn't pose any danger.
Also, you can always get your default DNS back.
How To Choose A DNS Provider
Before you make a final decision, look at all your prospective providers in terms of the following features:
Transparent Privacy Policy. Make sure that your new DNS provider doesn't track your connection, log your online activities, or sell these logs to third parties. Good DNS providers always state what kind of information can be visible to them when you use their services.

Speed. Good DNS providers offer great connection speeds. Always check that aspect before going for a particular provider.

Infrastructure. Check your DNS provider's server infrastructure. It has to be stable so that there are no connection drops. Also, there should be plenty of servers nearby your location for better speeds.

Protection. Protection against phishing and malware attacks is a huge advantage if your DNS service offers it. But don't forget about the rest of your requirements — a good DNS service should tick all the boxes.

24/7 Professional Customer Support. If you've got any issues with your DNS service, you can only fix them with the help of competent customer support. Therefore, it's important that your DNS provider offers you 24/7 professional customer support.

Needless to say, finding a provider that combines all these features together is not easy.
What is A VPN
VPN or virtual private network, is a technology that allows for secure communication between your device and the Internet.
It changes your IP and routes your traffic through a VPN server.
People use VPNs to bypass geo censorship (such as DNS and IP blocks), hide their digital identities, avoid speed throttling as well as protect their delicate data from hackers and snoopers.
VPNs can also be used for a variety of other purposes, namely for streaming content, sharing files on P2P, working remotely, and so on.
All of these applications make a VPN an incredibly useful tool.
What Are The Differences Between Smart DNS Vs. VPN
The main distinction between a VPN service and Smart DNS is privacy.
Though both of the tools allow you to access geo-restricted content, only a VPN encrypts your Internet connection, hides your IP address, and protects your online privacy when you access the web.
With robust AES-256 encryption, a VPN can also effectively shield you from hackers.
On the other hand, if you don't care much about your privacy and security, and you only need to reach blocked websites, you should be fine using a Smart DNS proxy.  
But, as we've already mentioned, a proxy will only work with those websites that were blocked at a DNS level.
For bypassing IP blocks, you will need to use a VPN.
Smart DNS pros and cons
Pros
Unlocks some geo-restricted content

Lightweight. Usually faster than a VPN as it doesn't provide encryption

Cheaper than a VPN

Works on devices that don't support VPN clients
Cons
Doesn't provide any encryption, let alone AES-256 encryption

Doesn't hide your IP address, meaning that you can easily be tracked by your Internet Service Provider, hackers, and other third parties

Unlocks only those websites that are blocked at a DNS level

Complicated to set up, especially for newbie users

Lacks additional features that a VPN has
VPN pros and cons
Pros
Uses industry-standard AES-256 encryption to protect your Internet traffic from being viewed or intercepted by third parties. Shields from hacker attacks

Changes your IP address to grant you full anonymity on the Internet

Unblocks any content
User-friendly and easy-to-setup

Can be used for a variety of purposes and offers additional features such as port forwarding, split tunneling, kill switch, etc
Cons
More expensive than Smart DNS

Usually slower as it provides encryption and changes IP

May not be supported by some devices
When comparing Smart DNS vs. VPN, you should also consider the following:
Streaming
Given that Smart DNS doesn't provide any encryption, it usually gives you better speeds when you want to stream some content.
However, you need to keep in mind that VPNs don't always reduce your Internet speeds.
2. P2P file sharing
Smart DNS may allow you to access torrent websites that are blocked at a DNS level.
But unlike a VPN, it won't hide your IP from your ISP when you download or upload files on a P2P connection.
Wrapping Things Up
DNS is a standard technology that let's Internet users connect to websites by using human-readable addresses.  
People change DNS to bypass censorship restrictions caused by DNS blocks.
Getting a Smart DNS allows you to reach streaming websites that weren't blocked at an IP level.
VPN allows you to access any websites and content.
It also comes with a variety of features for speed, privacy, and online security.