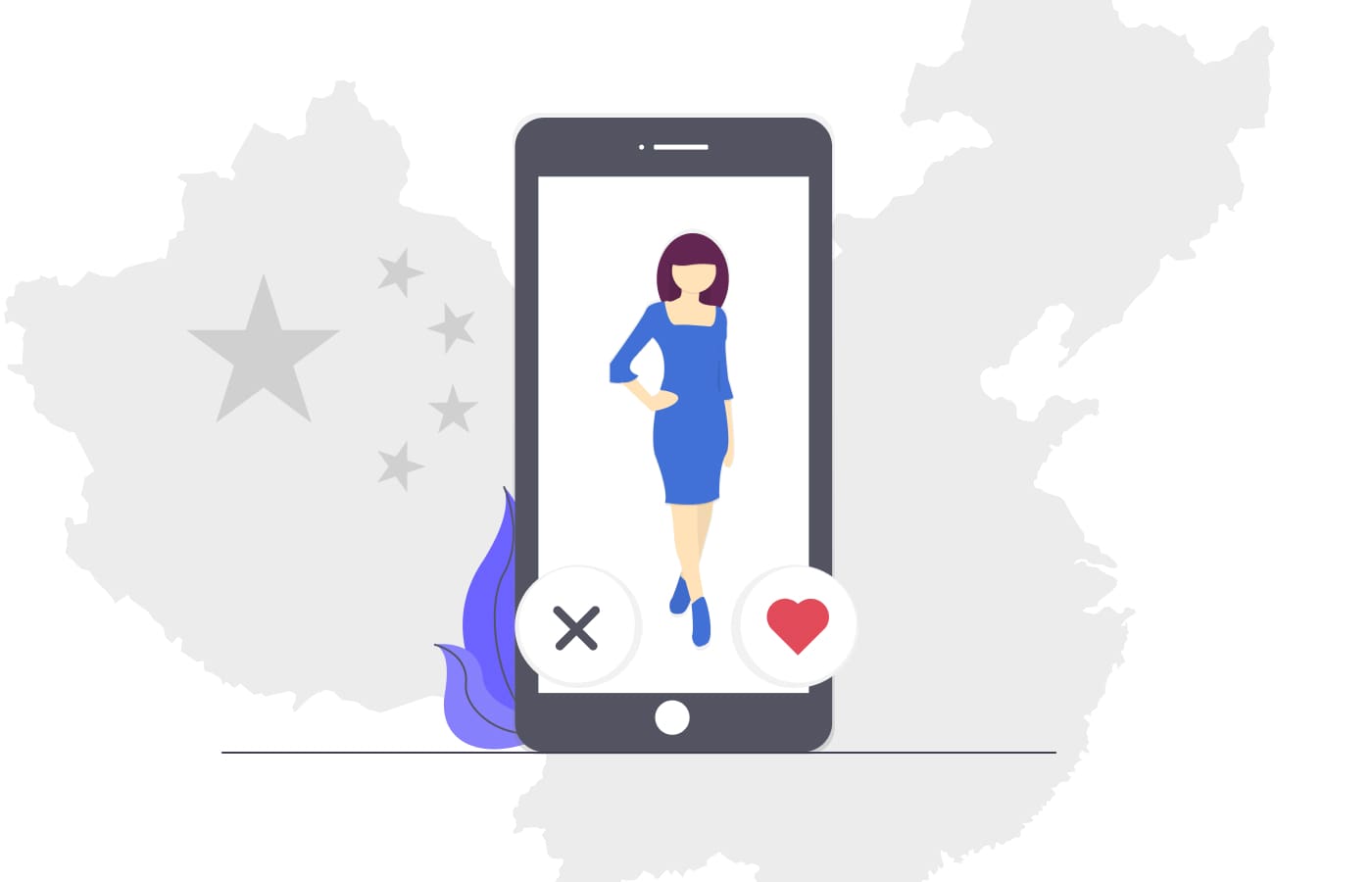 Tinder is a popular online dating app that is available in 190 countries around the world and in 56 different languages.
With this platform, regular Tinder users can sign in and scroll through prospective matches anonymously, swiping right to "like" a person's profile, or swiping left to move on.
Unfortunately, if you are looking to access Tinder in China, you'll soon find out that Tinder is blocked.
Thankfully, we have come up with an idea to help you access Tinder in China pretty easily, despite China's attempts to block this dating app.
Keep on reading to find out how to quickly and easily access Tinder from China using a Virtual Private Network (VPN).
Does Tinder Work In China?
If you have traveled to China before, you may already know that the government in China works hard to block many foreign services and websites from use in China.
Currently, Tinder is one of the many casualties of the Great Firewall of China, blocked from access by Chinese people and even some foreigners who are looking to use this American dating app from within China.
Thankfully, some of the strongest VPNs on the market have consistently proven to be able to unblock sites like Tinder from China.
Using a VPN like SwitchVPN, users can avoid headaches caused by these frustrating blocks simply by connecting to a VPN server outside of China.
Keep on reading to find out how SwitchVPN, and other elite VPNs on the market, can connect you to Tinder from anywhere.
Prerequisites For Accessing Tinder In China
Here are the important prerequisites for accessing Tinder in China:
An Internet connection: Before accessing tinder, you will need to establish a connection to the Internet. Accessing the web in China is actually pretty simple; You can do it by buying a local SIM card from one of the country's main operators, by connecting to a wireless network, or by using your home network's roaming option.
Chinese SIM card: If you buy a Chinese SIM card (that includes a decent data plan), this is an easy and affordable way to access the Internet in China. All you have to do is bring your passport to one of the country's main operators and you can get a prepaid SIM card offering a decent data plan for a small amount of money.
Using a wireless network: If you are in a larger city in China, you should have no trouble connecting to a wireless network. Finding a place that offers public Wi-Fi in a more remote Chinese town may, however, be a challenge.
Roaming: You may be able to use your ordinary data plan from abroad to roam while traveling, but this can very quickly add up to a lot of money, so we would recommend going with one of the first two options.

2. Using a VPN (Virtual Private Network): If you are looking to use Tinder in China, a VPN is a smart way to get around the restrictive Great Firewall of China.
A VPN is a convenient thing to use any time you want to use the internet privately without being detected.
What Is A VPN and Why You Need It In China?
A VPN is a service that provides a secure, private connection to protect your activities online and to help you access blocked services and websites freely.
A VPN hides your IP address and sends your online traffic through an encrypted tunnel to a VPN server in a different location, letting you connect to the services and websites that are typically only accessible in that particular country or region.
In China, since there are apps blocked by the Firewall, the only way to access Tinder and other blocked apps is to hide your activity from anyone in China who is looking to block you.
Connecting to a VPN server across the border from China, your IP address will appear as a foreign IP address, giving China no obvious reason to block you.
SwitchVPN is one of the elite services that will easily help you access apps blocked in China, like Tinder, consistently and with the highest level of security.
Why Should You Use A VPN To Access Tinder In China?
Without a VPN, regular Tinder people will not be able to unblock Tinder in China for the chance to swipe right or left on a person's profile.
Using a VPN, you can connect to a server outside of China, which will give you an IP address that reflects a foreign country, so you will not be detectable online as a Chinese web user.
This will let you access blocked apps while staying under the radar of the authorities in China.
The most reliable VPNs will be able to keep your IP address hidden and encrypt your activities online so that your ISP, third parties, and the government in China won't be able to detect that you are meeting foreigners or people nearby on Tinder
Who Likes To Use Tinder In China
In general, the types of people that use Tinder in China are:
Foreigners in China for business or for vacation
Chinese citizens interested in meeting foreigners
Foreign students looking for international connections
Chinese citizens who've used Tinder while traveling abroad
Knowing what types of people use Tinder is important because, if you are a Tinder user, these are the profiles you'll see when you sign in to the app.
Since you have to first unblock Tinder before accessing it, you are likely to find a low number of people who are located near you.
If you want to connect with people close by, there are multiple alternatives geared toward Chinese people in China.
Tinder Alternatives That Exist In China
If you are worried that there will be a low number of locals on Tinder in China, there are some Chinese dating apps that exist that are pretty similar to Tinder.
Here are some of the alternatives:
Liu Liu: This is an app specifically geared toward people who love animals and want to meet a match who also has a passion for pets. This app lets you post both your own profile and your pet's profile.
Tantan: This is perhaps the most similar to Tinder, so if you are already used to Tinder, there are not too many big differences between these two platforms. Tantan is also available in English.
Momo: This app is more like a social network, and even some foreigners in China use it. The problem with Momo is that it is not as simple to use and tends to have a bad reputation.
WeChat: This is the most widely used chat platform in China. It can be used to find a match, but it is not just for this purpose.
Qing Chifan: This app, which literally means "invite to eat," is a platform where people can invite each other to eat on a date.
FAQs
Which Tinder alternatives exist to date in China?
While Tinder in China does not exist, multiple dating apps are available that are good replacements for Chinese people.
The best popular apps in China for this purpose are Liu Liu (for a person and or her pet's profile),  Momo, Tantan, and Qing Chifan (which literally means "invite to eat").
What is Chinese Tinder?
While free access to Tinder in China does not exist, multiple dating apps come close to providing a similar substitute.
In general, Tantan is the closest match to the Tinder app you may be familiar with already with not too many big differences.
Is Tinder blocked in Hong Kong?
No.
While Tinder is blocked in China, you can access it from Hong Kong. SwitchVPN has a server in nearby Hong Kong, so you can connect to Hong Kong from within China to get fast local VPN speeds and unblock blocked sites like Tinder from China.
Access Tinder From Anywhere: Final Word
While alternatives exist, if you are looking for a specific Tinder company, and no replacement or alternative, a VPN is a must.
In order for regular Tinder users to unblock Tinder in China — whether they are foreigners who want to make international connections or locals who want to meet people nearby — a VPN is a simple, affordable, convenient thing to use.
The most reliable VPNs will help you access sites that are typically blocked in China, like Facebook, Twitter, YouTube, and Tinder.
VPNs will also help you avoid headaches, making sure you are not seen or caught by the authorities or visible by third parties, revealing that you are accessing a site that is forbidden.
SwitchVPN is an obvious choice for accessing the internet anonymously and securely from anywhere.
The SwitchVPN company offers a strict no-logging policy, military-grade encryption, cross-platform compatibility, and a user-friendly platform.
You can try out SwitchVPN for 30 days with a money-back guarantee or use a $1 trial, so you really have nothing to lose by subscribing now!