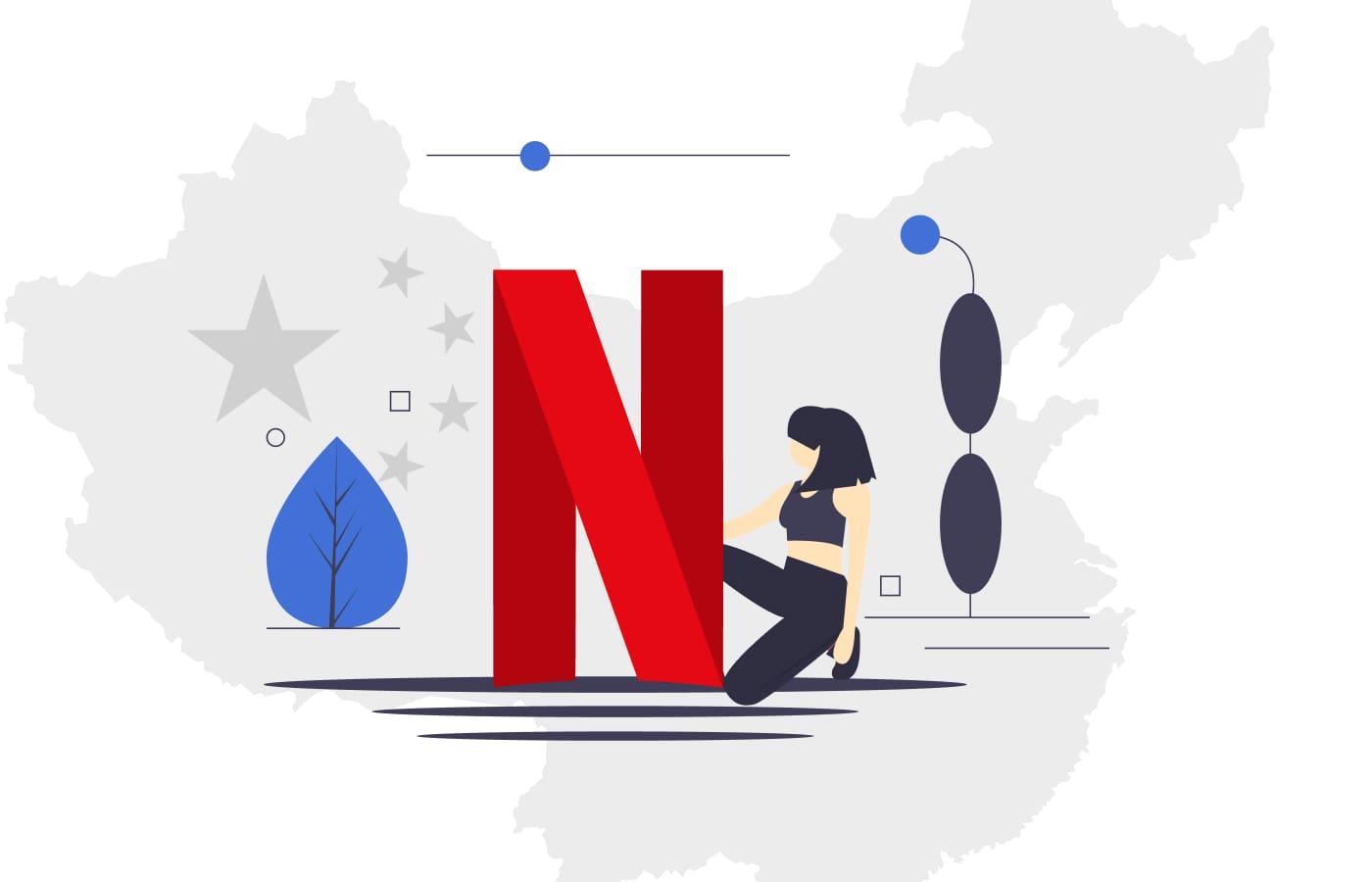 If Netflix has become a staple in your daily routine, you are not about to give it up just because you are planning a trip to China, right?
If you are living in or visiting China, you may be surprised to find out that the Netflix streaming giant, as well as other entertainment and social media apps that you are used to accessing from abroad, are simply out of reach.
If you want to watch Netflix in China, you will need to bypass geo-restrictions put in place to keep you from streaming Netflix content that is not for distribution in your region.
Thankfully, bypassing geo-restrictions is pretty simple if you are using a reputable VPN (Virtual Private Network).  
While not all VPN providers are able to get around geo-blocking to access the Netflix app or website in China, a few VPNs, like SwitchVPN, will consistently be able to bypass these geo-blocks so you can watch Netflix, or any other blocked streaming platform, from China.
Keep on reading to find out how to watch Netflix in China using a VPN app in 2022.
Is Netflix Blocked in China?
The Chinese government is notorious for its strict censorship and for its infamous Great Firewall, blocking popular streaming websites and other Internet sites from use on Chinese soil.
On top of the Chinese restrictions, popular streaming sites, like Netflix, Hulu, Amazon Prime Video, and BBC iPlayer, are only licensed to air their content in locations where they have licensing agreements.
Currently, Netflix China does not exist. While Netflix is available in close to 200 countries, in North Korea,  Syria, and China, Netflix is still not available.
Because the Chinese version of Netflix has yet to be established, Netflix movies and TV shows are blocked from access in China.
This means that if you go to the Netflix site from within China, all you will see is this annoying message on your screen:
Sorry, Netflix hasn't come to this part of world yet!
Even if you are an American resident who has subscribed to Netflix in the USA, you will not be able to watch your already-paid-for Netflix content in a place like China.
The only way to access your US Netflix content library in China as if you are in the USA is to use a reputable VPN.
If you download a VPN app to your device, you can connect from China to a US server.
This will hide your actual IP address and location, replacing it with an IP address that reflects your server location and IP address, allowing you to watch the American Netflix library from China or any country around the world.
And remember — while there is no such thing as Netflix in China, Netflix offers some of the best Chinese dramas on other regional libraries, and you can opt to enable Chinese subtitles when watching your favorite content.
How to Access Netflix in China Using a VPN
If you are set on accessing Netflix in China, here is how to do so using a VPN client:

1. Download a reliable VPN service:
Only the best VPN services will be able to unblock Netflix in China.
Because both China and Netflix have very tough restrictions to break through, many VPNs are unable to stay ahead of these blocks and have stopped using their resources to even try doing so.
Free VPNs, for example, are completely ineffective at unblocking the Netflix website in China.
When making a VPN selection, it is important to make sure you choose a VPN with fast connections so that you can stream your content with good quality and minimal buffering.
One of the best VPNs for watching Netflix in China is SwitchVPN.
SwitchVPN unblocks Netflix from China with great streaming speeds and no buffering.
2. Change your VPN settings and VPN server locations:
Once you have settled on a VPN that works well for watching Netflix in China, find out what other tricks your VPN has to help bypass internet geo-blocks.
SwitchVPN has servers that are optimized for use in China, as well as servers located in nearby Hong Kong.  
There is also a guide on the SwitchVPN website that helps troubleshoot any connectivity issues in China.
Other Reasons To Have A VPN
If you are not sold using VPN connections to access the internet, here are a few more benefits to VPN usage:
Use VPN to unblock Netflix in other regions:
Since Netflix libraries differ in content from one country to the next, unblocking a different country's Netflix library means that you can access a whole different variety of content.
All you have to do is connect to a VPN server in a different country and you will be able to access that country's content as if you are in that particular country.
You can also use a VPN to unblock other services listed in this article, like Hulu, BBC iPlayer, or Amazon Prime Video.
Prevent viruses and other risks:
These past few years, online threats have increased exponentially.
VPNs are good for more than just unblocking Netflix, but also for helping protect you from these threats.
The top VPN services on the market, like SwitchVPN, encrypt your Internet traffic with military-grade encryption so hackers, prying eyes, or the authorities will not be able to see what you are doing online or track your activity.
Since the Chinese market is inundated with pirated movies, viruses are rampant.
If you are using a VPN, you can access reputable streaming sites instead of the unvetted free sites that can infect your device with viruses and spyware.
Be careful not to fall into the trap of using a free VPN for security online.
These free services are often responsible for infecting your device with malware or for compromising your privacy by selling your data to third parties.
FAQs
Can I watch Netflix in China?
While you won't be able to watch Netflix from China without a VPN, a VPN will allow you to access Netflix in China as if you are abroad.
Using a VPN in China, your actual location and IP address are concealed, and you can connect to one of your VPN's servers in a permitted streaming location, like the US, which will give you access to US Netflix in China.
One of the best VPNs to watch American Netflix in China is SwitchVPN.
SwitchVPN has more than 250 servers in more than 43 locations around the world, including servers that are specialized for use in China, and servers in Hong Kong, which will give users a local connection for access to local services.
SwitchVPN gives users a 30-day money-back guarantee, so you can try out accessing your streaming entertainment from China for yourself with no strings attached.
Conclusion: Watch Netflix In China
If you are content using Tencent video in China, enjoy!
But, if you are wondering how to watch Netflix in China, all you have to do is use a reliable VPN provider, like SwitchVPN.
With SwitchVPN, you can watch American Netflix in China, or access a different Netflix library in a different country.
SwitchVPN offers users a reliable connection in China, and up to 6 simultaneous connections with a family plan, or 3 simultaneous device connections on a premium plan, so Chinese users can stream Netflix while accessing another streaming service at the same time.
Nowadays, there is really no reason to restrict your access to your must-see shows or your must-access apps and websites.
Downloading a VPN to your devices will give you the freedom to watch what you want, when you want to watch it, from anywhere.
SwitchVPN gives users a 30-day money-back guarantee or $1 trial, so you can sign up today and give it a whirl before committing to a long-term subscription.