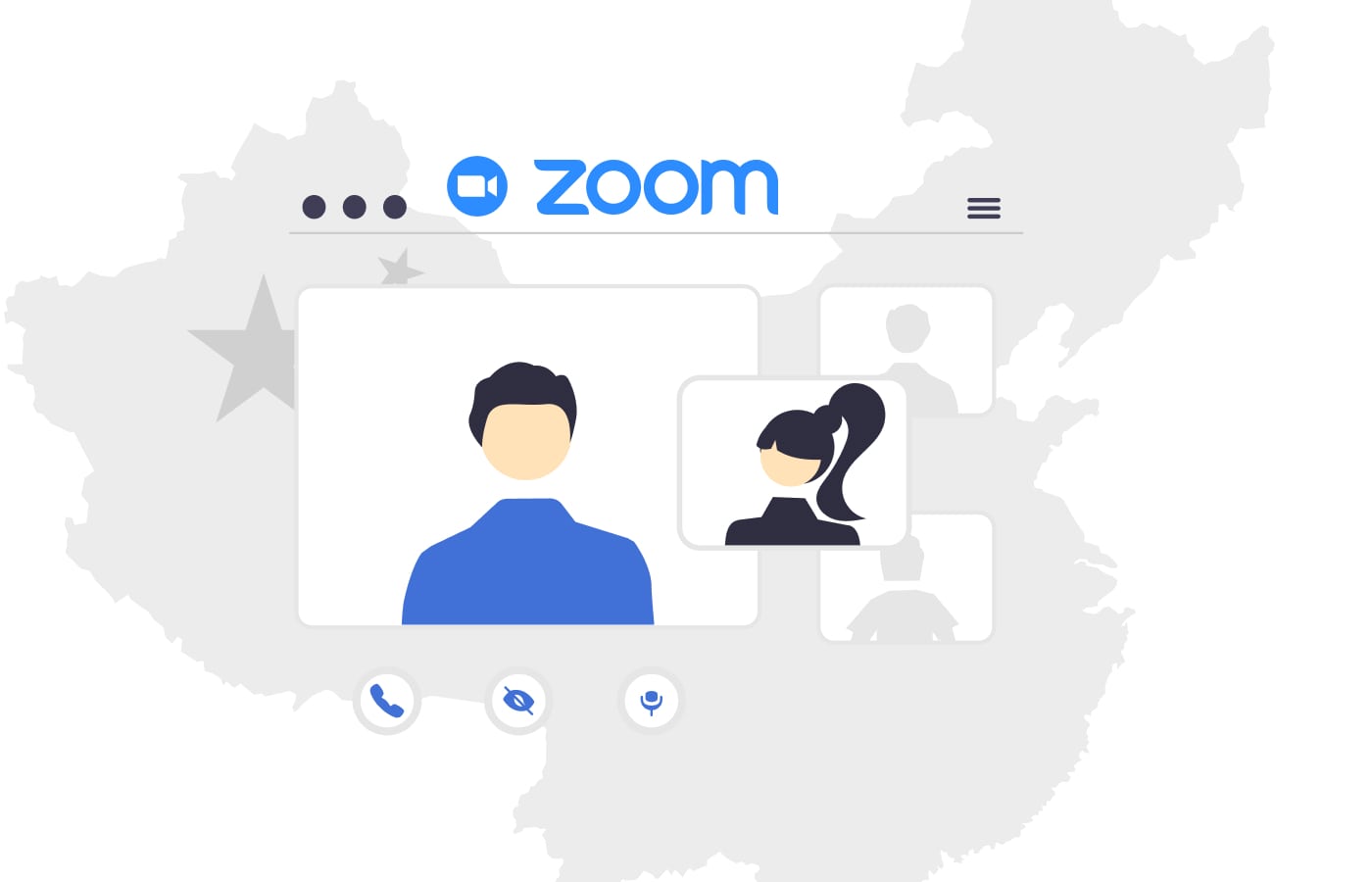 Zoom has become essential in this digital age.
Whether it is being used for work, school, or pleasure, this video-conferencing app is an absolute necessity in 2022.
If you're planning a trip abroad, you will want to be sure that you can use Zoom wherever your travels take you.
Unfortunately, if you are trying to access Zoom in China, you may be disappointed.
So, what's the story? Does Zoom work in China?
If you are living in or traveling to China, you will quickly find that the Zoom app is blocked.
But, while the Chinese government may try to keep users from accessing Zoom, there are ways to bypass this restriction.
If you are trying to access Zoom — or any other blocked website — from China, you don't have to search too hard to find a solution.
A VPN (Virtual Private Network) is an easily accessible tool that will help users in China visit any blocked website simply by playing a virtual game of hide and seek.
With a VPN, a user can mask his IP address that reflects his location in China, replacing it with an IP in a different location that allows access to Zoom.
Not all VPNs, however, will work at getting past China's blocks, so keep on reading for more information on which VPNs will effectively help users in China access this must-use video app in 2022.
How To Unblock Zoom In China With A VPN Service
If you are looking to use Zoom in China, follow these quick and easy steps:
Choose a reputable VPN company. For example, SwitchVPN has proven to consistently and reliably work at getting past blocks in China.
Download/install your VPN to your device following the steps on the VPN website. Download this VPN application before arriving in China. (Some VPNs have mirror sites for download in China.)
Sign in to your VPN with your username and password.
Search for and connect to one of your VPN's servers in a country that permits Zoom.
Use Zoom freely from China!
Why Is Zoom Not Working In China?
For people who are accustomed to traveling to China, it will not come as a surprise that many sites are blocked from within Chinese borders.
The government in China is using strict censorship practices to prevent its citizens and visitors from accessing sites it does not deem appropriate or advantageous for its population or its bottom line.
One of the main reasons why Zoom does not work in China is that the Chinese government is constantly pushing for local services and local companies, like the WeChat service, to be used instead.
WeChat operates from China under China's regulations and laws and is mandated to share user data with China's government.
Fortunately, there is a way to get around this block so you can use Zoom even from within China.
How To Access Zoom With SwitchVPN
The best way to get around Chinese surveillance to use Zoom in China is by using a reputable VPN, like SwitchVPN.
If you use a VPN that has been vetted for effective use in China, all you have to do is connect to one of your VPN's servers outside of China to outsmart the system and avoid China's blocks.
By connecting to a VPN server, your actual location and IP address are hidden from your Internet Service Provider (ISP) and from the authorities, ensuring that your VPN server's IP address is all that is visible.
This will make it appear that you are actually accessing Zoom from a country that allows Zoom use, like the USA.
When you use SwitchVPN to search the Internet and to visit any website in China, you will also be able to avoid Chinese surveillance, as your online traffic is encrypted with military-grade encryption, out of reach from foreign government agencies, and third parties.
This way, you can visit media sites that are blocked in China, communicate freely via Zoom, and protect your online privacy — all at once.
SwitchVPN lets you use up to 6 devices at once if you sign up for their family plan ($5.99/month), or 3 device connections if you sign up for their Premium plan ($3.99/month).
Either way, you can have more than one member of your family or company connect to Zoom on multiple device options simultaneously using SwitchVPN.
Either one of the SwitchVPN plan options will give you the ability to try out your VPN on your device for up to 30 days with a money-back guarantee, or you can opt for a free trial for 3 days for only $1.
Check out the SwitchVPN website for more information on how this VPN can help protect you and help you connect to servers in other countries to access the Zoom website easily today!
Zoom Alternatives
If you are looking to use alternatives to Zoom, here are some of the top options.
You may need to use a VPN to access these alternative companies as well.
GoToMeeting
Microsoft Teams
Cisco Jabber
BlueJeans
Glip (RingCentral)
Using a VPN, like SwitchVPN, you can access these services from countries all over the world.
When connected to a SwitchVPN server, your actual IP address will be hidden and replaced by an IP address in a permitted region.
This is a simple hack that is easy to figure out even by VPN novices.
Websites That Are Also Blocked In China
Unfortunately, Zoom is not the only service that is blocked in China.
Many media and communication services are blocked in China, including:
Hulu
Google
Facebook
Twitter
Wikipedia
YouTube
The New York Times
and many more sites

Because of China's restrictive internet policies, sites like the ones listed above are out of reach from people who might typically visit them multiple times a day when abroad.
To get around these restrictions and visit the websites that you want to visit when you want to use them, a VPN is a must.
A VPN, like SwitchVPN, gives you the freedom to surf the web under the radar from the government, authorities, and your ISP.
FAQs
Is Zoom available in China?
No. At the moment, Zoom is not available in China.
Check back for updates and more information intermittently as these blocks and restrictions are constantly changing, so countries that are blocked from zoom today may be permitted tomorrow.

What to do if Zoom doesn't work with a VPN connected?
If you find that you can't use Zoom even with your VPN connection, try following these steps:
Turn off your device's GPS/location-tracking services.
Clear the cache on the Zoom application.
Make sure that IPV6 is disabled on the device you are using.

Does Zoom Work In China: Conclusion
If you are trying to reach websites that are vital to your daily routine, finding out that they are blocked in China can be very frustrating.
Thankfully, if you want to access Zoom in China, all you have to do is establish a VPN connection.
Using a reputable VPN, like SwitchVPN, you can sign on to a server in any of the countries you choose, making it look like you are connecting to Zoom from a permitted country.
Once you are connected to a VPN server in the permitted region, you will then have the ability to communicate freely with friends, relatives, or colleagues in countries around the globe.
A VPN connection also helps protect you from surveillance by foreign government agencies and encrypts your online traffic, so your activity is out of reach from hackers or online attacks.
For more information on SwitchVPN, including different countries where SwitchVPN has servers, click here to check out the SwitchVPN website.