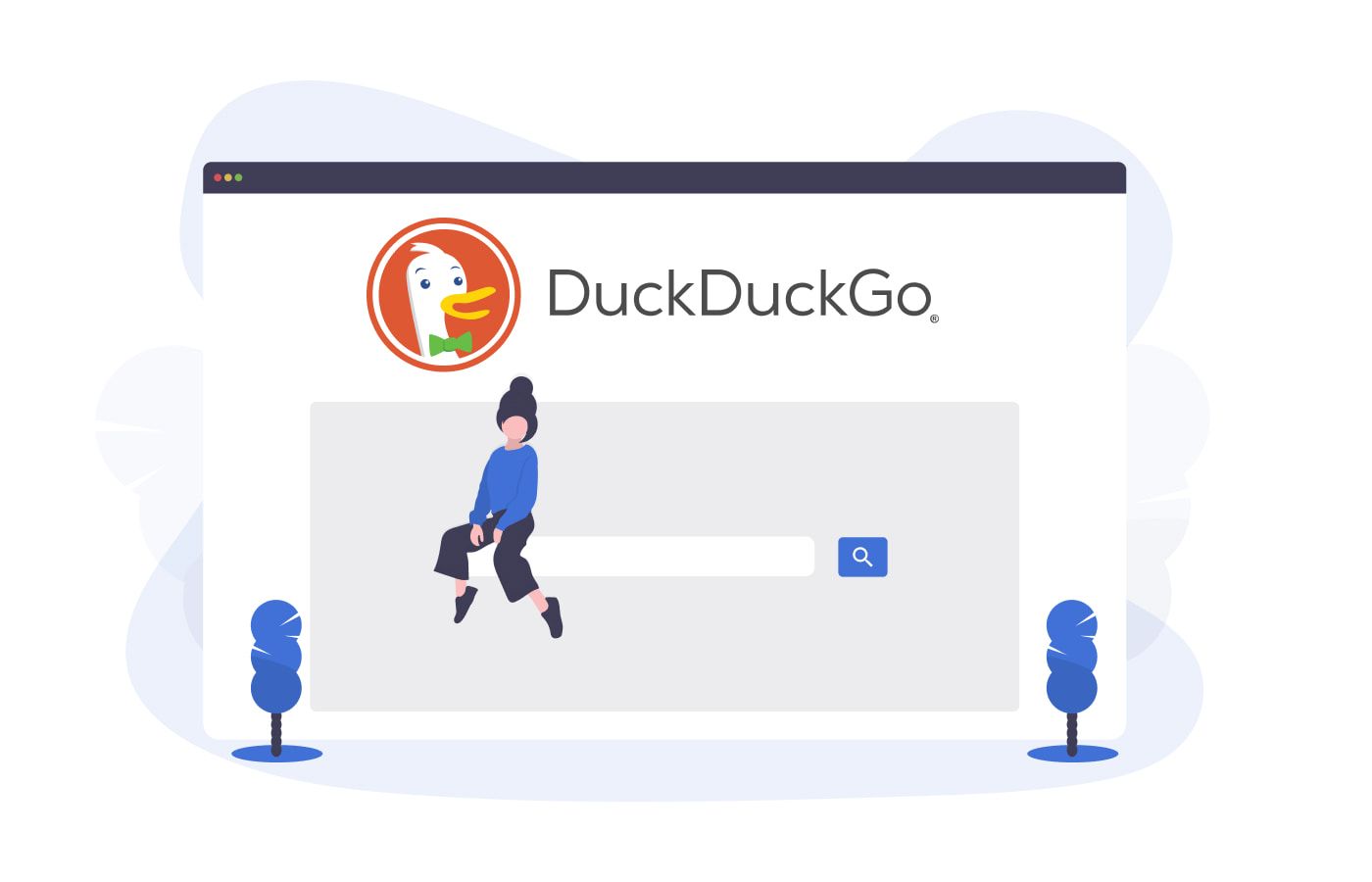 Did you know that, often, when you are using a search engine, the search engine is also using you?
With most search engines ― like the ever-popular Google ―  while you sift through your search results to find the information you are looking for, your search engine is sifting through your personal information, impinging on your Internet freedom.
The unfortunate truth is that most search engines and websites store IP addresses and track your activity in order to generate targeted ads and deliver personalized search results.
DuckDuckGo, however, is different.
With DuckDuckGo, users can get all of the search results they are looking for without being traced or tracked, and with the utmost privacy.
In fact, when you type in your search in the DuckDuckGo address bar, it will be completely forgotten the next time you perform a search.
If you are ready to use a search engine that will help you find what you are looking for online but will not track your searches, Duck, Duck, GO!
What Is DuckDuckGo?
DuckDuckGo is a more basic, simple search engine that prioritizes its privacy protection measures and quality instead of offering users all of the bells and whistles that some other search engines boast.
Unlike Google and other popular engines, DuckDuckGo doesn't track its users' activities and request patterns, offering no personalized search results.
It's hard to believe that it's possible these days, but when using DuckDuckGo, most Internet users will get the same search results ― not results crafted to individuals' histories.
Another difference between the ever-popular Google and a DuckDuckGo search is that, with any particular search on DuckDuckGo, all of the results will be listed on the same page, as opposed to Google's multi-paged results. (If you think about it, how many times have you actually clicked on pages 2, 3, 4, 5, 6... of a Google search?)
So, if your priority when performing search queries is simplicity and user privacy, DuckDuckGo is a great option for you.
Is DuckDuckGo Safe To Use?
If you are looking for a private search engine for your Internet searches that is safe to use, DuckDuckGo is a great option.
In contrast to a Google search, using the DuckDuck Go search engine prioritizes your privacy, and does not track or store your data when you think you are typing in a private search request.
What this means is that each time you use your web browser, you get a blank search history.
DuckDuckGo will not store user data and browsing history unless you specify that you want it to do so.
What does it mean to have a private search engine that does not track you or store your data?
This means that you won't see those incredibly eerie and often annoying targeted ads, and you won't have the auto-suggest function that Google offers.
So, instead of feeling like someone in your computer already knows what you are, and have been, thinking, each time you use DuckDuck Go, you are approaching your computer with a clean slate.
How Private Is DuckDuckGo?
If you are (rightfully) spooked by how closely Google and Facebook seem to watch your every move, you will be relieved to know that private browsing is DuckDuckGo's mission.
While it could change at any second, at the moment, DuckDuckGo claims that users can "Search the web without being tracked," so your search history actually disappears as you browse.
DuckDuckGo Revenue Model
So, if DuckDuckGo is a free service, how does it make a profit?
First, DuckDuckGo does make a profit by using affiliate codes.
This means that each time users purchase a product through DuckDuckGo searches or through an ad on their page, DuckDuckGo gets a commission.
If you have privacy concerns regarding this issue, it is a good idea to understand how this works.
When you search for something on the web privately, like a new couch, you will see ads that pop up on DuckDuckGo that relate to this search.
But, as soon as you open a new page to search again, any personal information and browser information from the previous session is obsolete.
DuckDuckGo Pros & Cons
This search engine, DuckDuckGo, has a lot of assets.
Let's take a look at some of its web browser specifications that are beneficial to users, as well as some cons to this engine.
Pros:
Very user-friendly.
No targeted search results. All results will be the same, despite your different IPs and locations.
Great online privacy; Doesn't store IPs, search history, or personally identifiable information.
Offers cool features like on-demand weather data, loan calculators, and advanced features for tech-savvy users.
No search leakage. Your personal information will never be passed on to third parties or used for marketing.
Cons:
You gain in terms of online privacy, but lose out on auto-suggest features and personalized browsing experiences.
Less comprehensive than Google.
Can't sync multiple accounts with DuckDuckGo the way you can with Google.
DuckDuckGo vs. Google
While you may be used to Google, using Google means that you will get less private browsing and that your personal data profile is being stored.
If you want more private browsing, DuckDuckGo is the way to go.
If you like the idea of syncing your Google accounts, however, it may be hard to give up this convenience, but DuckDuckGo lets users use a more minimalistic, simplistic engine, which is a different kind of convenience.
For privacy enthusiasts, DuckDuckGo is probably your best bet. While Google logs and tracks your online activity, DuckDuckGo puts its privacy practices at the forefront.
Why You Can't Fully Rely On Search Engines Like DuckDuckGo
While DuckDuckGo is one of the best private search engines, it is not all-encompassing.
Once DuckDuckGo redirects you to a website from your search engine, you can be tracked by other websites - like e-commerce websites.
If you use DuckDuckGo to get to your websites, you will be unidentifiable since your IP address is not linked to your profile, but the site you reach will then be able to collect your info and track you and other users on the Internet.
To keep your search and Internet activity completely secure and private, a VPN is the best option.
Why You Need A VPN Also
When you are on DuckDuckGo, your traffic is not encrypted, which means that prying eyes, law enforcement agencies, and third parties can see your activity and IP address. If you are accessing the Internet on public Wi-Fi, you can then become exposed to hackers and cyberattacks. A VPN encrypts your traffic with AES 256-bit encryption and hides your actual IP address.
DuckDuckGo does a good job at giving you good privacy when you are searching for sites, but it can't keep you safe from other threats on the Internet, like trackers on social media.
Using a reputable VPN, like SwitchVPN, will ensure that your personal data and search history are never logged, your activity is all sent through an encrypted tunnel, and your IP address is concealed.
If there are law enforcement requests demanding your ISP turn over your activity logs, you are safe when using a VPN, SwitchVPN for example, do not keep any logs of user activity, so there is never any to hand over.
Together, DuckDuckGo and SwitchVPN can give you the highest level of data protection.
With SwitchVPN, your connection speeds will always be the fastest, and you can access geo-blocked site content while remaining safe and anonymous online.
Conclusion
If privacy and anonymity are your priorities, the best steps you can take to maintain these luxuries is to use DuckDuckGo along with a reputable, vetted VPN, like SwitchVPN.
SwitchVPN will ensure that your activity is never logged and that all of your traffic is sent through an encrypted tunnel so that it will be completely indecipherable to any outside parties.
You can use DuckDuckGo for free and try out SwitchVPN for just $1 with all features included!
Safe surfing!