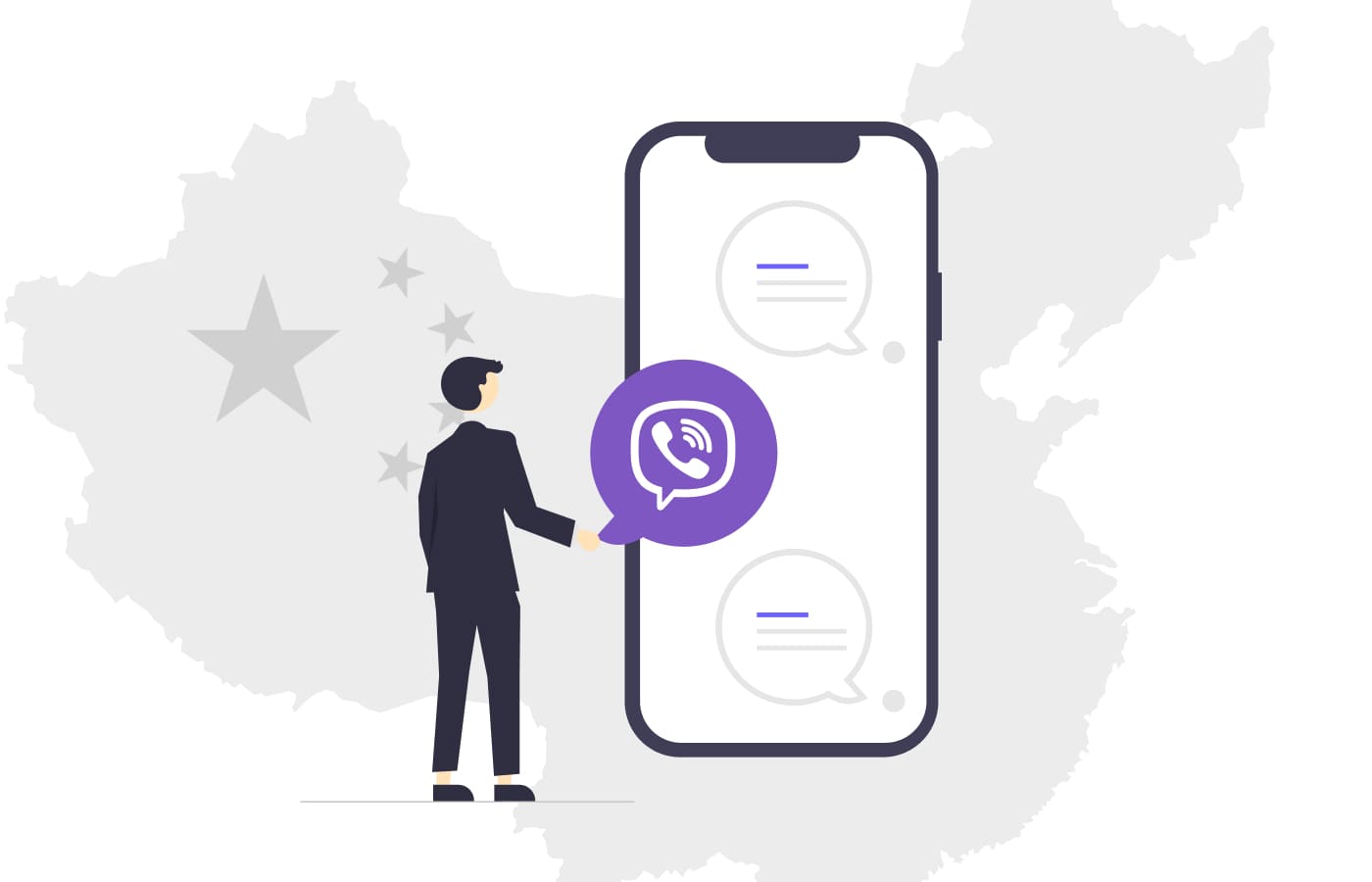 Viber is a free app that lets users call, text, and send media files to other Viber users around the world.
Unfortunately, you will not be able to access Viber in all locations.
If you want to access Viber app in China, you will have to use a VPN service.
If you have traveled to China before, you may already be aware that many websites and apps are blocked by the Great Firewall of China.
Popular platforms like The Wall Street Journal, BBC iPlayer, Facebook, Twitter, Instagram, Viber, Snapchat, Netflix and many others are out of reach from the Chinese people and visitors to China.
Keep on reading to find out how to access blocked sites like Viber from China, or anywhere in the world.
Does Viber Work In China in 2022?
If you are familiar with the strict Internet censorship in China, you may not be too surprised to find that, like other popular apps, the Great Firewall blocks Viber messenger from use in China.
Despite these blocks, you can access Viber messenger — even in China — using a reputable VPN (Virtual Private Network).
How To Access Viber In China
Because of the restrictions imposed by the Chinese government, the best way to get access to the sites that are blocked in China is to use a strong VPN service.
When you establish a VPN connection, your actual IP address and location in China are hidden and replaced by an IP address that corresponds to your VPN server and location (outside of China), helping you bypass the Great Firewall without detection.
Keep in mind that a free VPN, or an unreliable VPN, will not be able to help you gain access to blocked services in China.
What Is A VPN And Why Should You Use It In China?
A VPN service lets you establish an encrypted Internet connection, concealing your real IP address and your real location and hiding your Internet activity from the authorities, prying eyes, or your ISP.
When you use a VPN client, you can connect to a server in a location that allows access to the content and sites that may typically be out of reach in your actual location, including Viber messenger.
If you use a VPN provider in China, you can hide your online activities and location, slipping under the radar of the Great Firewall of China.
The problem is, the Great Firewall is always working to block VPN services, so many VPNs will not succeed at getting past these restrictions.
In fact, only the best VPN providers will reliably be able to stay ahead of these blocks by using tools like double VPN, obfuscated servers, and other specialized configurations to get past Chinese restrictions without trouble.
Keep on reading to find out some of the good VPN services to try when you are trying to access Viber messenger from within China.
What Makes a Good VPN for China?
It is hard to find a VPN service to help you reliably access websites that are blocked in China.
The best VPN for China is one that is able to help you consistently access Google services, Facebook Messenger, Viber Messenger, Twitter, and Instagram from heavily restrictive countries like China.
Some VPNs for China also offer specialized configurations for China, as well as obfuscation to make it even harder for ISPs or authorities to detect VPN use in China.
SwitchVPN is one of the top China VPNs that has servers optimized for use in China.
Another important consideration for a VPN for China is the proximity of its servers.
SwitchVPN has servers located in Hong Kong, which gives Chinese users a fast local connection from within China.
It is also important to make sure that any VPN you choose has good customer services, support that is readily available, and the opportunity to use your VPN with multiple connections.
Price is also a consideration if you want to access blocked websites on a budget.
If you are worried about your privacy and security while using a VPN from China, you may also want to verify that your VPN has a strict no-logs policy and that your VPN is based in a privacy-friendly country.
Tips for Using a VPN in China
If you are trying to use a VPN provider to access Viber messenger in China, here are a few tips:
Get a VPN service from abroad:
In order to use a VPN service to access Viber Messenger or other sites blocked in China, you have to first subscribe to a VPN before you arrive in China.
Since VPN sites and apps are blocked in China, you will only be able to access VPN apps from the Google Play Store or App Store from outside China.
Install your VPN on your devices before arriving:
To use your VPN in China, make sure your VPN has been installed on your devices from outside of China and that you have your VPN activated before you head East.
Use a SIM card in China:
If you are located in Mainland China, you should have no trouble connecting to public Wi-Fi from most public locations.
Still, it is a good idea to get a Chinese SIM so you won't have to worry about finding an internet connection to use your VPN.
You can also get an affordable SIM that will let you make international calls from China.
Figure out how to configure your VPN for China:
The top VPNs  — like SwitchVPN — have customer support departments and information on their websites conveying the best configurations for using your VPN in China.
Realize that many websites are blocked:
If you plan on accessing websites in China, such as social media websites or messaging platforms, you should first realize that most of these will be blocked.
When choosing a VPN for China, make sure your VPN works with the popular sites you use regularly.
It is also important to make sure your VPN has customer support that you can access to help you troubleshoot connectivity issues.
Accessing Viber in China with SwitchVPN
To access Viber from China:
Choose a reputable VPN service, like SwitchVPN.
Install your VPN to your iOS or Android devices, macOS, Windows, phone, or computer.
Connect to one of the VPN servers in a location that supports Viber use.
Access Viber from within China.

If you are trying to unblock Viber using a VPN, SwitchVPN is a great option.
SwitchVPN encrypts your internet connection to protect online privacy.
SwitchVPN offers AES 256-bit encryption protocol and an automatic kill switch that will kill your online connection in China in the event that your encrypted connection cuts out unexpectedly.
Alternatives To Viber In China
If you are looking for alternatives to Viber in China, some of the top options are Tencent QQ, which is like Facebook Messenger; or WeChat, which is like WhatsApp.
On WeChat, you also have options for blogging, social media, and other options.
It seems that you are currently also able to use iMessage or FaceTime if you are using an iOS device within China, but this could change at any point.
FAQs
How can I download Viber in China?
If you find Viber blocked in China, you can unblock Viber by using a VPN that has been proven effective at working in China, like SwitchVPN.
Is Viber Banned in China?
Yes. If you try to access Viber in China, along with other streaming sites, news sites, or social media platforms, you will find that it is blocked.
In order to get around China's blocks, you will have to use a reputable China VPN, like SwitchVPN.
Conclusion
If you are looking to unblock Viber from within China, SwitchVPN is at your service .
You can use SwitchVPN on your computer or mobile device - whether iOS, Windows, Mac, and Android device; and SwitchVPN allows up to 6 device connections on a single user account.
SwitchVPN offers split tunneling, DNS leak protection, and a sturdy network of servers that can help access your favorite websites in China, even if the Chinese authorities block connections.