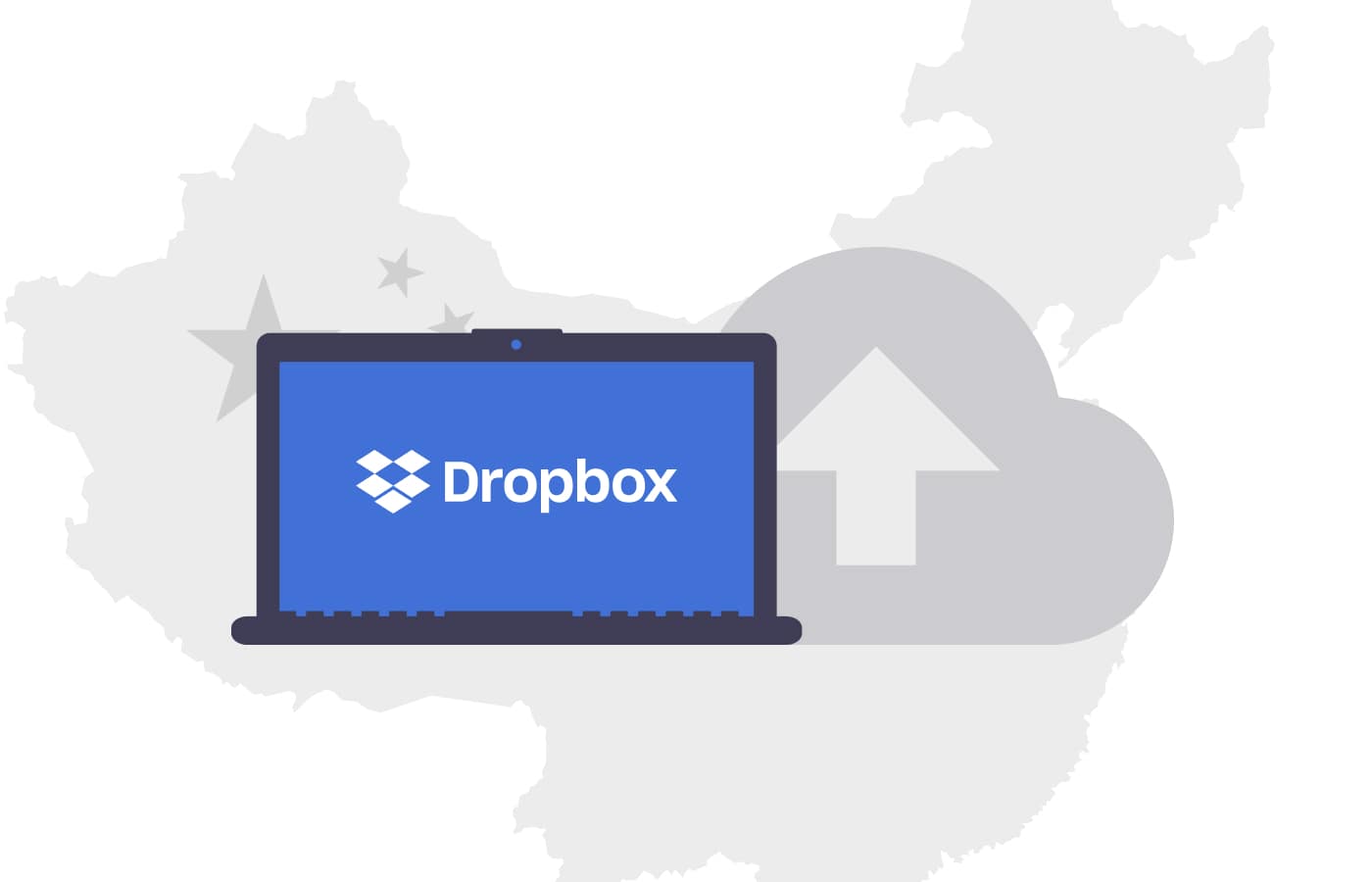 If you count on Dropbox for access to your files, what happens if you travel to a country where this file-storing platform is blocked?
Unfortunately, if you have traveled to China before, you may already be aware that China blocks thousands of popular websites — including the Dropbox website.
If you want to access Dropbox in China, however, there is a way to do this.
To use this file-sharing site despite the blocks imposed by the Chinese government, you will have to use a reputable Virtual Private Network (VPN).
When you connect to a VPN server from China in a country where Dropbox is permitted — like the USA — this makes it look like you are accessing Dropbox from the USA.
Your real IP address in China is hidden and replaced by an IP address that reflects your permitted VPN server location instead of your real location.
Since most VPNs are unable to break through the powerful blocks imposed by the Chinese government, it is important to be discerning in choosing a VPN if you want to use Dropbox in China.
Keep on reading to find out which VPNs can reliably get through the Great Firewall of China to access Dropbox in China in no time.
Does Dropbox Work In China?
No. Dropbox, along with many other popular websites, is blocked in China.
If you are on a business trip to China, this can be particularly frustrating and inconvenient, especially since Dropbox is used by many people to store files on the cloud.
If you want to use Dropbox in China safely, the only way to break through the Great Firewall is to use a reputable China VPN, like SwitchVPN.
Why Use Dropbox In China
It can be beneficial to use Dropbox in China for personal reasons, or for professional reasons.
Many businesses use Dropbox to store files on the cloud, which means that in China, these files will not be accessible.
If you want to be able to use Dropbox in China, you are going to need to subscribe to a good VPN service before you leave for your trip to China.
This will allow you to gain access to any business files that are stored on the cloud with Dropbox (or with Google Drive) even though technically blocked in China.
Why You Should Use A VPN To Access Dropbox in China
The Great Firewall of China filters out websites that may host content that does not conform to their standards.
Because Dropbox is a photo-sharing site that allows users to share their files that are uncensored, Dropbox has been added to the long list of blocked websites that continues to grow every day.
In fact, even when Dropbox made an attempt at switching to its HTTPS protocol to get past China's blocks, the Chinese government responded by imposing blocks on Dropbox's HTTPS address as well.
When you use a VPN to access Dropbox in China, you can connect to one of your VPN service's remote server locations, masking your real IP address to bypass censorship.
If you connect to a server in a location that does not block Dropbox, such as the US, your IP addresses will reflect this US server location instead of your location in China.
On top of disguising your IP address, VPN services also serve as protection against government surveillance and cyberattacks.
This way, if you are sharing files or personal data that are political in nature or contrary to Chinese law or culture, these will remain encrypted and private.
Since most VPN websites are actually blocked in China, you will have to download your VPN app to your device before leaving for China.
Then, all you will need to do when you arrive on Chinese soil is connect to a VPN server outside of China to gain unrestricted access to Dropbox.
How To Choose The Right VPN For China
Here are some important features to keep in mind when choosing a VPN for China:
Good security and privacy features: Because of China's heavy censorship, it is extra important to find a VPN that has strong privacy and security feature, like military-grade encryption, a Kill Switch, IP and DNS leak protection, and a strict no-logging policy.
Money-back guarantee: A money-back guarantee allows you to test out your VPN in China to make sure it works on your trip before committing to a long-term subscription.
Good speeds: If you use a VPN with inadequate speeds or caps on your data and bandwidth, it will take forever to share any files, and your streaming and browsing will be full of annoying buffering.
Reputation for getting past China's blocks: In this situation, a proven reputation for being able to get past China's blocks is perhaps the most important feature to keep in mind when choosing a VPN. The last thing you want in China is to use a VPN that is only able to get through China's blocks once in a while.
While there are very few VPNs that fit the bill, SwitchVPN meets all of these criteria, reliably and consistently breaking through China's blocks to gain access to restricted sites in China with the top protections and the important features listed above.
How To Access Dropbox In China
To access Dropbox in China, along with other blocked websites, follow these comprehensive guides:
1. Get Internet Access in China:
Some of the ways you can establish an online connection in China are:
Get a SIM card: To get a local SIM card for your personal mobile device, you can usually find kiosks at the airport that sell them, or head over to China Unicom or China Telecom store to buy one. Monthly service is actually quite affordable in China.
Wi-Fi Connection: The good news is, in bigger cities in China, you should be able to find access to Wi-Fi networks easily in local cafes or shopping centers. It is harder to find Wi-Fi in smaller cities.
Rented Phone: You may not realize, but you can actually rent a phone for China. If you are worried about your security using a phone that is connected to a Chinese network or finding a place to get a SIM card, this can be a pretty easy solution.
International Roaming: This is an effective, but expensive option, so international roaming should only be used as an option if you are on a quick trip. You can arrange international roaming with your internet service provider/network before leaving for your trip.
2. Use a VPN:
To use a VPN on your device follow these easy steps:
Subscribe to a reliable VPN.  SwitchVPN consistently gets through Chinese blocks.
Install your VPN to your device before arriving in China.
Choose a server connection outside of China.
You're now able to bypass censorship in China. Dropbox should be accessible!
Remember, the smartest move is to set up your VPN before arriving in China.
If you try to do this from within China, it will be much more difficult since VPN websites are blocked from access.
When Chinese users connect to a VPN, their connection is sent through an encrypted tunnel, allowing them to access their Dropbox account even where it is typically blocked.
3. Sign in to Dropbox:
After establishing a connection to the internet and ensuring that you have a stable internet connection, you should easily be able to access your Dropbox account, as well as any other blocked accounts — like Google, Facebook, or Instagram.
What Else Can You Do With A VPN
Here are some other useful benefits of using a VPN:
Unblock restricted streaming services:
If you are traveling to China, you will find that your access to your go-to streaming services from back home will be blocked.
Using a good VPN is the simplest way to get around these blocks so you can get access to your geo-restricted streaming services as if you are in your home country simply by connecting to a VPN server in your home region.
Unblock other blocked sites:
Not only will a VPN unblock Dropbox in China, but it will also help you access other platforms that are blocked by the Great Firewall, such as Facebook, Twitter, YouTube, or Instagram.
All you have to do is use a VPN service to connect to a server in a country that permits access to these platforms, and you will be able to access them.
Online protection:
The top VPNs, like SwitchVPN, offer military-grade encryption and send your online traffic through an encrypted tunnel, so your identity remains private and your internet traffic will be indecipherable by anyone who gets their hands on it.
These advanced security features provided by your VPN connection are powerful internet security tools to keep you safe from hackers, punishment, and breaches in privacy.
FAQs
Why is Dropbox banned in China?
Because of China's strict internet censorship, the Great Firewall is consistently working at blocking access to websites that do not comply with the Chinese government's filters and regulations.
Since Dropbox allows users to access its cloud services to freely share files that are not censored, users cannot use Dropbox in China without a VPN service.
Dropbox in China: Conclusion
If you have come to rely on Dropbox in everyday life — either for business or pleasure — it can be quite frustrating to find Dropbox blocked.
The good news is that there is a pretty quick solution to this problem.
First, you can test out one of the Chinese Dropbox alternatives, but most likely, this is not the path you will want to take.
The quick way to both access your Dropbox files and protect your online data is to use a reputable VPN.
While there is a diverse range of VPNs on the market that can keep your data private, very few of them will reliably be able to break through China's Firewall.
SwitchVPN not only has a proven reputation for breaking through China's blocks, but it uses the top privacy and data encryption protocols, and offers users a 30-day money-back guarantee, so you can try it out for yourself before committing to a long-term SwitchVPN plan.