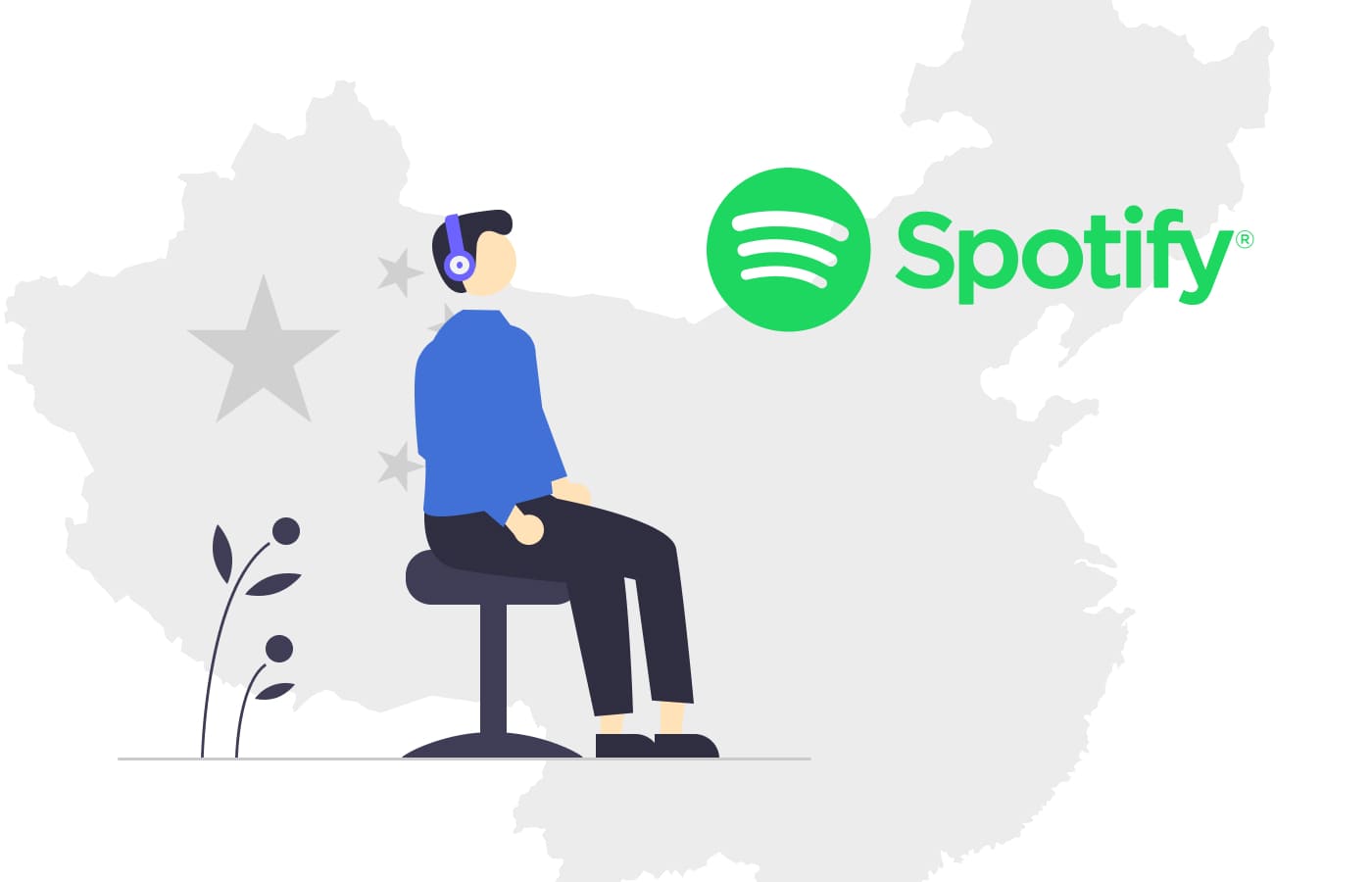 If you're the type of person who can't go anywhere without your ready-made playlist on Spotify, you may be surprised to hear that this popular music-streaming service might not be accessible when you leave your home country to travel abroad.
So, what's the story? Is Spotify blocked in China?
Spotify is a mecca for music lovers, with more than 70 million music tracks and over 2 million podcasts available — ensuring that there is something for everyone on this popular platform.
While the Spotify app was expected to be accessible in almost 180 countries by the end of 2021, there are still certain locations in which Spotify is still not available to most internet users.
Currently, you cannot use Spotify on Chinese soil.
Due to China's censorship and geo-restrictions, you will find Spotify, and other websites, blocked from access in China, only accessible to users connecting with a reputable VPN (Virtual Private Network).
Keep on reading to find out how to get full access to the music you are craving on Spotify using a VPN in 2022.
Is Spotify Blocked In China In 2022?
Yes. Unfortunately, Spotify is currently blocked in China.
Due to China's strict Internet censorship and their nearly-impermeable Great Firewall, users will not be able to use Spotify free in China.
Between Spotify's blocks and the restrictions imposed by the Chinese government, it is very likely that this platform will be completely blocked if you try to access it with a Chinese IP address.
Unless you opt to upgrade to a paid active subscription to Spotify, its media content will not be accessible from mainland China.
This paid plan lets you use Spotify anywhere in the world, as long as you are using a payment method that reflects your native country.
With your paid plan, you can use Spotify in its offline mode, which only requires you to connect to the web once a month so Spotify determines you are still an active user.
If you are not able to connect to Spotify from a permitted location every 30 days, your offline library will become inaccessible to you.
To try using Spotify offline, go to your Spotify app settings and make sure "offline mode" is enabled.
If you are unable to sign on from a permitted location every 30 days, you do not need to cancel Premium; All you need to do is use a VPN.
The only way to reliably and consistently access the Spotify service from a blocked location is to use a VPN.
The best VPNs can hide your real IP address in a restricted location, allowing you to establish a VPN connection through a server in a permitted country.
This Spotify VPN will give you an IP address that will help you slip past the Great Firewall and get around geo-blocking tactics.
Why Is Spotify Not Available In My Location?
While we have established that a VPN can be used to unblock Spotify, let's take a quick look at why accessing Spotify in China is so hard.
First, Spotify is not currently offered for streaming on Chinese soil.
If the platform detects via IP detection software that users are accessing its content from a location that it does not permit, it will block its content from users.
Another one of the reasons why internet users cannot access Spotify in China is that the Chinese government is trying to direct consumers to domestic options, like QQ Music, which would benefit their country.
Since a Spotify Premium subscription lets music fans stream music from anywhere in the world, this makes it easy for users to opt for foreign services, like Spotify, instead of Chinese apps.

How To Choose A Good VPN For Unblocking Spotify
If you are looking to use a VPN to access the Spotify music-streaming service, it is important to keep in mind these important criteria:
Usability: If you plan to access Spotify regularly from China, make sure it is easy to use and compatible with your mobile devices and any other platforms you plan to use.
Effectiveness in China: Not every VPN works in China! It is important to remember that not all VPNs can bypass China's strict censorship. Make sure you are using a strong VPN — like SwitchVPN — with a reputation for bypassing Chinese geo-blocks.
Speed: The best VPN for China will deliver fast speeds so that you can stream your music and podcast content with no interruptions and lag.
No-logs Policy: To make sure you are browsing the web privately from China, make sure the VPN you choose has a strict no-logs policy.
Service: In case you need assistance at any point while trying to access certain apps with your VPN, the provider you choose should offer live-chat support so you can easily troubleshoot issues.
Keep in mind that a free VPN is highly unlikely to get past China's blocks and will likely make you vulnerable to hackers and prying eyes.
How To Unblock Spotify In China With A VPN
In order to use a VPN service to access Spotify, there are a few important steps you will need to follow.
But, before we get to the steps, it is important to remember that not every VPN provider will unblock Spotify in China.
Our top VPN choice to access blocked websites in China is SwitchVPN.
Once you have chosen a VPN that is reputable for effectiveness in China, make sure to download this VPN to your device before you travel abroad to China.
Because the app stores and VPN sites are blocked in China, you will have trouble downloading your VPNs from within Chinese borders.
Once SwitchVPN, or another one of the reputable China VPNs, is downloading to your devices, launch the app and choose a VPN server from a country outside of China.
If you are looking for the fastest local connection, you can connect to SwitchVPN's VPN servers in nearby Singapore, South Korea, Hong Kong, Taiwan, or South Korea.
If you are prompted to log in to your Spotify account, you will need to connect to a server in your native region to keep your account active.
To access music in China using a VPN service, follow these simple steps:
Subscribe to a reputable China VPN, like SwitchVPN.
Install your VPN app to your device before you enter China!
Launch your VPN app and connect to a server outside of China that permits Spotify.
Open Spotify.
Access your favorite songs from anywhere!
What Service & Apps Are Blocked In China
The same way the Chinese government blocks access to Spotify, many other popular websites are also blocked.
Social Media:
The most popular social media apps that you are used to using on a regular basis are likely blocked in China, such as:
Streaming Sites:
You will not be able to access streaming services in China without using a VPN. Some of the blocked services are:
BBC IPlayer
Hulu
Twitch
Vimeo
Daily Motion.
Spotify
Search Engines:
Popular search engines, like DuckDuckGo, Yahoo, and Google are blocked from access in China without the use of a VPN service.
News and Work:
If you are traveling to China for business, you may have a hard time being productive due to the Chinese blocks on services that are essential in any work environment, like:
Google (Gmail, Play Store, Drive, etc)
News Platforms and Media Sites
OneDrive
NYTimes
Wall Street Journal
Reuters
It is possible to access Spotify, and any of these sites, using a reputable VPN service, like SwitchVPN.
FAQs
Is it legal to unblock Spotify in China with a VPN?
While VPNs are frowned upon in China, they are not illegal. If you are detected, though, you should realize that VPNs may hide your traffic, but they won't prevent you from being held responsible if you do break the law.
Do you need a VPN for Spotify in China?
Yes. In order to get past China's infamous blocks in China, you will need to use a VPN.
Spotify in China: Conclusion
If you are trying to access Spotify in China, it is possible to get past the Great Firewall and the heavy Chinese Internet censorship by using a reputable China VPN, like SwitchVPN.
Whether you are looking to tune in to new music or old favorites on this platform, using a VPN that has been proven to bypass Chinese censorship, you will be able to access the Spotify app and get open Internet access even from mainland China.
The best VPN for Spotify in China is SwitchVPN. SwitchVPN has been proven to be able to get through the Great Firewall, and will also protect privacy online at the same time, so your internet connection is encrypted with maximal protection.
Check out SwitchVPN Today!